Did you catch our cow on the Conan show in September? Ol' Bessie the Holstein wasn't feeling a lot of self-esteem, so she attempted suicide on the show on three different nights! Okay, technically, the third night was a murder-suicide, as she did leap out of the rafters onto Two and a Half Men's Jon Cryer: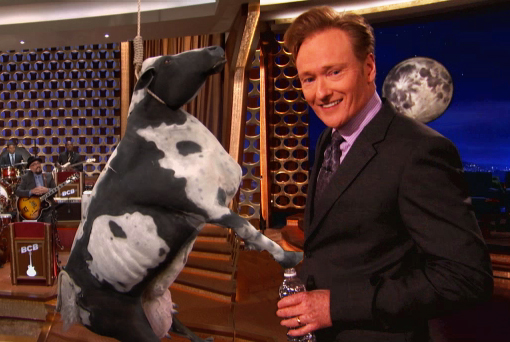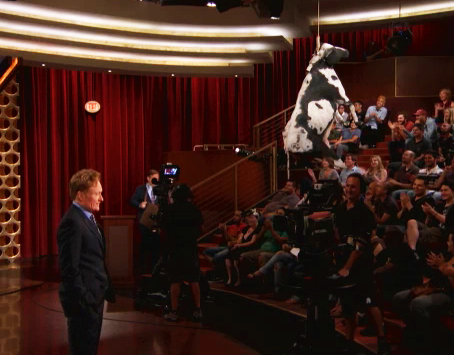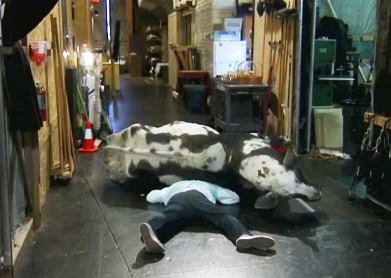 Well, it turns out Poor Bessie had a history of Identity issues. In fact, she started out as a he, originally. As a Water Buffalo, created for a Bud Light ad; a stunt gag in which he was required to swing in from out of frame and bash into a stuntman: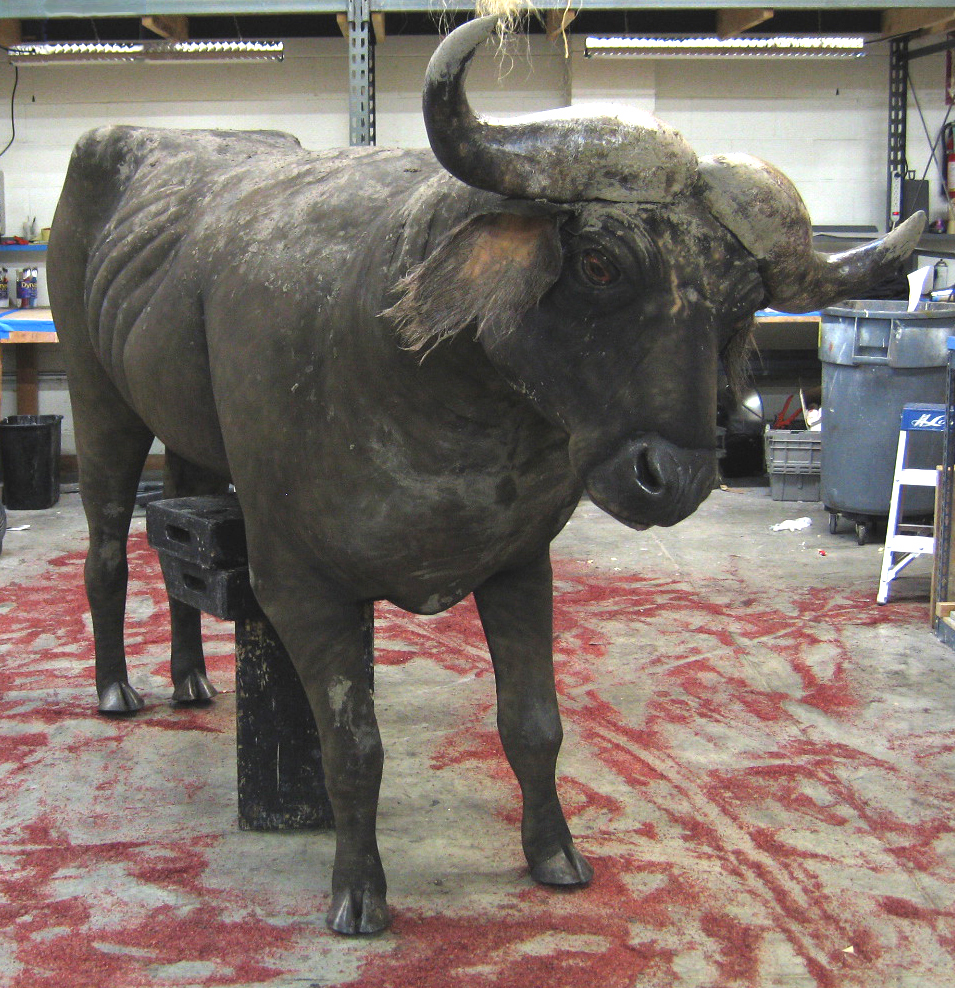 But then the Siren Call came! A major Feature Fillm! The incredibly aptly named "Disaster Movie!" Okay, so it was a job. "Macho Water Buffalo, we have a part for you, but it's a bit of a stretch. Well, not so much a stretch, as it is a sex change, a paint job, and an udderaddtomy." Ever the pro, our TCS Foam Stunt Bovine was up to the task, became known as "Bessie", and was soon making cinematic history! Kinda: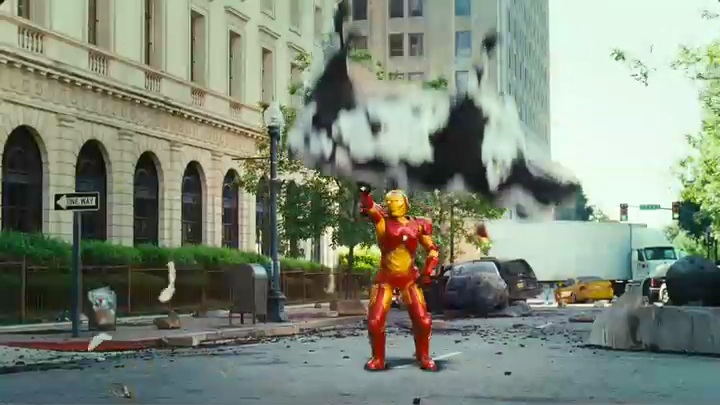 It was little more than a "Fall-on" part, and after a debauched wrap party involving Kim Kardashian, countless jello shots, and some inflatable sheep, Bessie sought other work for 3 years, but found none. Until the Conan show. And while the national exposure accounted for something, it didn't help Bessie's feelings of being typecast, abused, and having a really sore neck.
Time for a CHANGE! In an attempt to break out of her rut (and also the Guinness World Record for most Bovine Gender Reassignment Procedures), Bessie had a quadruple mastectomy and grew a pair...of horns. AND balls. Enter BILLY the BULL!
That's right. Billy was now an 8 horsepower Steerable Ramming Stunt Bull with Hydraulic Brakes, and specially reinforced to take the toughest assignments, head on. He appeared on Rob Dyrdek's Fantasy Factory, on MTV2, chasing the likes of Johnny Knoxville and Chris Pontius around. In fact, this bull has so much balls, it took a jump off a ramp!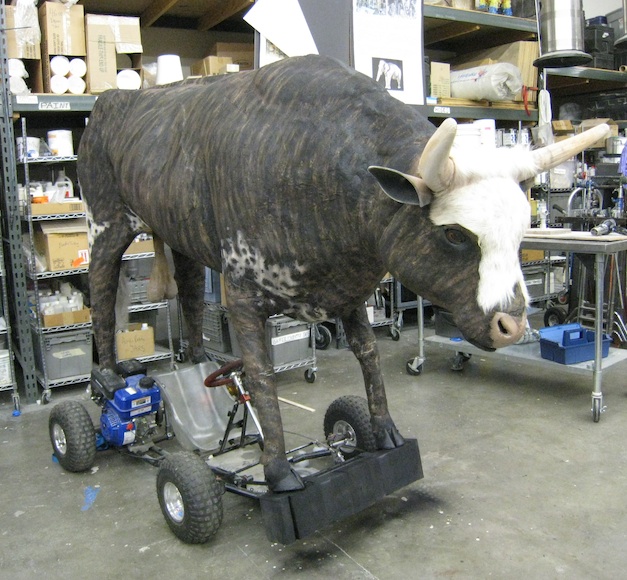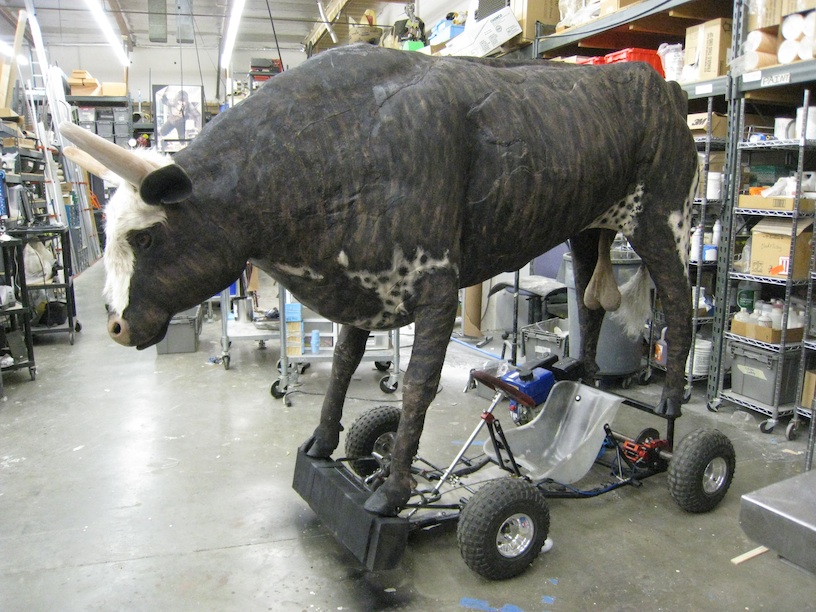 If you want to see the full sequence, check it out! (The action starts at 12:40 in the linked video)

With that, you would think that Billie could go on with his career with oportunites galore to hang outwith the skate rat/Jackass crowd...but Conaco, Inc. had other ideas...

That's right. Conaco needed their Bessie back! In a tuxedo! So, hop off that go-cart Billy, you're getting a testicleectomy, an udder augmentation, and another Holstein makeover (replete with a natty Tux jacket!) to appear on the CONAN show YET AGAIN!

You think DeNiro had dedication to his craft? Added weigth, lost weight for a role...PFFFT! Big Deal! Did he go through 3 reversing sex changes for his craft? Yeah; that's what I thought. We should hail Buffy/Bessie/Billy/Bessie again for his/her/it's continued dedication to the craft.


But seriously, folks: This is a very lightweight, very durable, very customizable cow/bull form that's great for action and stunt shots. It hasn't got (except for a little on the face) hair, fur, or hide on its body, so we don't consider it an example of our realistic work. But for the actions it does, and as long as you see it on camera...no fur needed, and it looks and works great for the gag!